Private Wing Chun Kuen Lessons
Regular private Wing Chun kuen lessons can really help a student develop and understand the training material to a deeper level.
Private tuition will also re-inforce the information required to move forward with relevant training programmes.
Martial Arts knowledge will increase with the help of 100% attention from a qualified Instructor.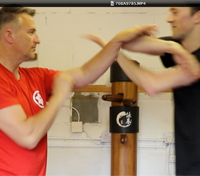 Private tuition costs less than you may think, from as little as £35 per hour, they can help to fill-in any gaps that the student may have missed from the evening classes.
Many students compliment evening class training with a regular private tuition in Wing Chun Kuen to enhance their martial art experience.
There are also many students that decide to train only through regular private tuition, as this may work better around their working hours and shifts patterns.
You may want to consider Private Wing Chun Kuen Lessons as part of a group of friends or family members even as a corporate team building exercise.
Private Tuition (All ages)
There are many benefits from taking private lessons. It's a great way to learn as it's personal, the learning process will be faster as you're getting 100% attention from your instructor.
Benefits of private tuition
Residential
Quicker progress
Lessons at your convenience
Family sessions
Private lesson prices – The lessons are discounted based on duration.
1   Hr    = £40
1.5 Hrs = £55
2   Hrs  = £70
(Additional charge for travel may apply, depending on distance)
Locations and days
Surrey and SW London 7 days per week (subject to availability)
Find out more about Sifu Andy King
To book private tuition in Wing Chun Kuen please complete the form below and we will contact you within 24hours to discuss your requirements.
Private tuition costs less than you think, starting from as little as £35 per hour. There has never been a better time to learn to defend yourself , Book your lesson today.