Self Defence Course
Learning a complete martial art can be a little daunting at times, to be proficient at anything in life, will require personal investment, this means regular commitment of time, effort and money.
This year there will be a 6 week self defence course, that will concentrate on the core self defence elements of Wing Chun.
Times and dates to be arranged.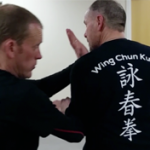 If this is something you'll be interested in, please complete the form below, and we'll be in touch in due course.
---
---
Self Defence Form