---
Wing Chun Kuen Classes
Wing Chun Kuen Classes are suitable for all ages, fitness levels and experience levels.
There are classes suitable for adults and a seperate class for Children, all the classes offer many great benefits, which you'll find listed below.
Wing Chun Kuen is not only a wonderful Martial Art, and training experience for men and women but also an effective self defence system which is great value for money. Beginners are always welcome to join our ego-free classes, you'll be trained through easy-to-follow steps, following a simple but effective syllabus. And the great thing is, you can try for 4 weeks for only £20.
With our Wing Chun Kuen Classes, you are guaranteed to benefit in so many ways.
Benefits
Fitness levels: This doesn't mean you need to be ultra fit when you start classes with us, as everybody starts from somewhere. 'A journey of a Thousand miles begins with a single step'
Confidence: Your confidence will grow and develop as you start to feel in more control and capable of your skills.
Coordination: Being aware of, and controlling your limbs and joints simultaneously. Improving your fine motor skills in self defence, it's a great feeling when they start to work together. The ability to defend yourself and strike your attacker simultaneous can make a big difference to your success in a confrontation.
Health Benefits: You're guaranteed to receive improved health benefits, including weight loss, stamina, muscle tone and core. The classes include some stretching and conditioning. Like everything in life the more you put-in the more you get out.
Kids Classes
Children's Wing Chun Kuen class. The classes are suitable for children from 7 to 12 and cost only £7 per session (paid half termly).
The class consists of 60 minutes of high energy fun, self defence techniques, coordination, forms and pad striking coupled with the foundations of Wing Chun Kuen.
If you are interested in the Children's class Click here.
NO fixed term contracts,  just come down have fun, train, learn valuable defence skills and discover what you CAN do.
Prices
Adult Class Training
£20 – 4 week introductory for all beginners
£55 – per Month for class tuition at ALL classes (After your £20 Introduction)
Private 1-2-1 training
£40 for 1 hr
£55 for 1.5 hrs (Save £5)
£70 for 2 hrs    (Save £10)
(A small additional charge may apply, depending on distance)
Membership
£40 per year for Membership/Insurance – (Only applies after your 4 week intro)
---
Sifu Andy King teaches Wing Chun Kuen in Ewell & Epsom on Monday and Thames Ditton & Esher on Wednesday.
All classes have excellent facilities, including parking in the main car park or local street parking and convenient transport links by rail or road.
Click to read more about Sifu Andy King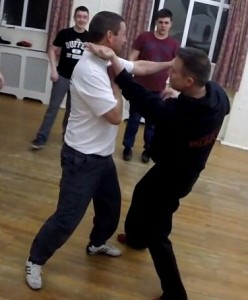 Register for evening classes and get 4 weeks of Wing Chun Kuen classes for only £20 as a special introductory offer.